Mixed Media Playground 1 E-Course

If you can't make it to my studio in person then you can be there in spirit so… Grab a seat!!
To me, mixed media is all about playing, experimenting and being open to new (and any) possibilities! So…
I will go through my favourite and super simple techniques to create backgrounds (even when I'm feeling stuck), focal points and how to add final touches to your art.
I will also guide through 5 FULL LENGTH TUTURIALS, from scratch to finish!
And I have added example photos for EVERY SINGLE TECHNIQUE!
We'll get messy and I will encourage you along the way to follow your own intuition and add your own touch…
And don't worry, I will support you so there is no need to feel worried or intimidated!
We'll have some fun with acrylic paint, alcohol inks, modelling paste, gel plate, stencils, stamps, liquid pearls, stickles…
No time to get bored 😉
I will be showing you my techniques using loose sheets of paper but feel free to use an art journal if you prefer (I recommend one with mixed media or watercolour paper for this e-course).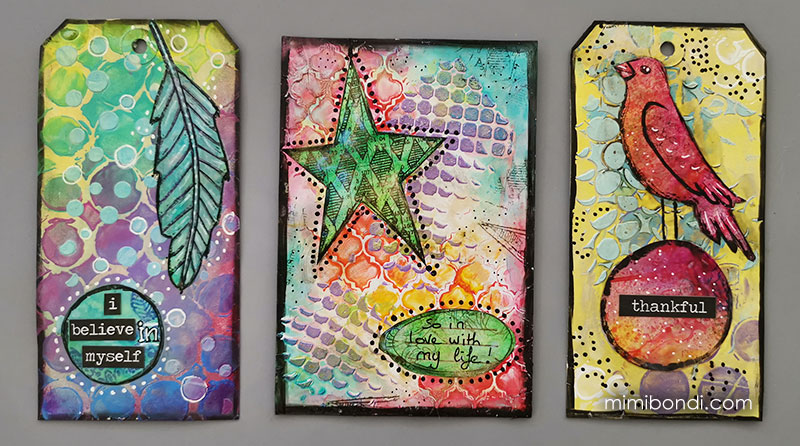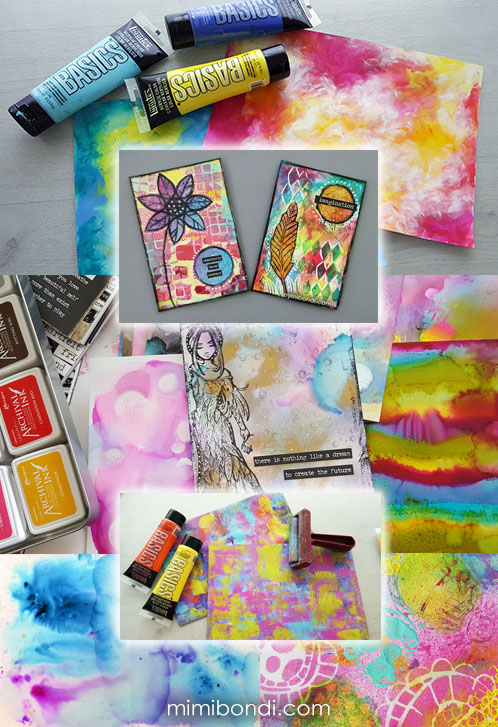 About Course
Join Mimi Bondi's Mixed Media Playground 1 E-Course to learn TONS of easy & quick background techniques + 5 FULL LENGTH VIDEO TUTORIALS!
Course Curriculum
Part 1 – MY FAVOURITE BACKGROUND TECHNIQUES with ACRYLICS
Finger Blending Technique

Baby Wipe Technique

Dry Brush Technique

Card Swiping Technique

Brayer Technique

Blob Technique

Blob Squish Technique
Part 2 – MY FAVOURITE TECHNIQUES with STENCILS (15m)
TUTORIAL 1: " SO IN LOVE WITH MY LIFE! " – Acrylics + Stamping + Stencilling + Texture (45m)
Part 3: MY FAVOURITE TECHNIQUES with WATERCOLOURS (45m)
TUTORIAL 2: "DAINTY" – Watercolour + Stamping (23m)
Part 4: MY FAVOURITE TECHNIQUES with STAMPS (12m)
Part 5: MY FAVOURITE TECHNIQUES with ALCOHOL INKS (52m)
TUTORIAL 3: "ANGEL" – Alcohol Inks + Stamping
TUTORIAL 4: "Abstract Flowers" – Alcohol inks + Collage + Stencilling
Part 6: MY FAVOURITE TECHNIQUES with A GEL PLATE
TUTORIAL 5: "Sun and Stars" – Gel printing + Stamping + Texture
Student Ratings & Reviews
No Review Yet
Once you are enrolled you will get:
Immediate access to the video(s) without LIFETIME access (you cannot download the workshop but you can watch it anywhere, anytime with access to the internet, and as many times as you wish!
One on one support (you can post questions within the course platform – please do not email)
Access to the Facebook group (always free) where you can also ask questions, ask for feedback and post photos of what you created from my teachings
Any free updates I may add in the future!
Please note online workshops are not refundable.
ABOUT MIMI BONDI
I am primarily an ARTIST, totally in love with mixed media!!
My style is abstract with vibrant colours... and my creativity has no bounds!
It goes from paper, to canvas, to digital art...
From layering to collaging, from throwing ink around to painting with my fingers!
As a graphic designer, I also adore my computer and easily lost track of time when I'm designing.
No matter what I'm doing, time just stands still when I'm creating and I love hiding in my studio all day to create - and JUST BE.
Because I love to share and inspire, I am also...
I hope you find lots of inspiration from my work and website and will feel the love I infuse into each artwork I create 🙂
Student Ratings & Reviews
No Review Yet